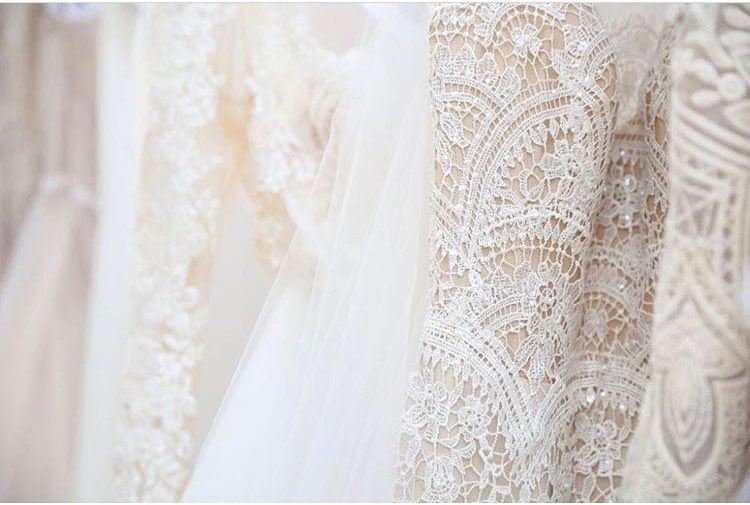 Such an amazing experience. We were beyond thankful when we called 10 minutes before they were supposed to close and they agreed to wait on us to try on bridesmaids dresses! Super helpful and kind and such a beautiful place to do a fitting. Call first bc they only take ONE bride at a time for the best one on one experience. So professional and just an all around great experience. Would recommend over anyone else in town.
-Jennifer Thorpe
Love Birds Bridal Boutique goes above and beyond! It was my first time trying on wedding dresses, and I found my one! They made me feel so comfortable and at home, and even had the most thoughtful gifts waiting for me. Beautiful gowns, affordable prices, and the sweetest service.
-Laura Lee Dyar
I came in to Love Birds on a Saturday. They squeezed me in since we were in tow and another lady didn't show for her appt for work reasons. It was 315 when we began (after store hours) and they did not rush me at all. There were lots of choices and they let me pick whichever styles I wanted to try on. We finished about 430 with a bottle of champagne because I found the ONE. Never once did they stress me about time. Cheryl, Maddie, and Sarah were welcoming from the moment we came in. Sarah was so welcoming and they really made me feel beautiful with their support and honest opinions! RECOMMEND. 10/10.
-Chelsey Causey
Thank you for making my wedding dress search so easy. It was an unforgettable experience!! This dress was waiting just for me, this dress chose me!! Thanks again, Mrs. Cheryl.
-Toshiba Harper
Love Birds Bridal Boutique was an absolute dream to work with. We were looking for the perfect bridal experience and we found it here. Our appointment went flawlessly. We were not rushed, we were graciously assisted with the selection for Leslie's perfect dress. It was not a big warehouse one dress fits all experience. It was a personal and meaningful. They wanted us to feel welcomed and right at home with their classy southern hospitality. We can't thank them enough!
-Leslie Amanda Evans
Love Birds Bridal Boutique are the best with invitations, Save the Dates, and ceremony programs! I am an out-of-town bride and after a re-location during my engagement put me 15+ hrs away from my wedding site, I was worried about not being present to pick out my invites and other paper products. Cheryl, Parker, and Hailey made this part of my wedding so easy! We did EVERYTHING from design and paper weight to pricing over the phone and email. They even were able to hire an artist to handsketch a drawing of the ceremony site, which I then bought the copyrights to and we were able to use on all of our invites, Save the Dates, etc. As an out of town bride, they mailed me my invitations and Save the Dates in a timely fashion. Last but not least, they do beautiful work! I got so many compliments on all of my paper goods surrounding my wedding. Overall-- beautiful product and quality, classic design, and great people to work with. Highly recommend!
-Anna Claire Barnett
I bought my dress from here, Mrs. Cheryl is the sweetest! Absolutely thrilled to have gotten my dress from her shop!
-Mallory Tucker
Cheryl with Love Birds Bridal Boutique definitely made the wedding planning process stress free and smooth sailing! I am so blessed to have had her as a wedding planner and pulling off my daughter and son-in-laws special day. Everything was beautiful and we received so many compliments on the wedding. I couldn't have asked for a better wedding planner. She knows what she is doing! I would definitely recommend her to anyone in need of a wedding planner. Whenever we needed something or had a question, she always was responsive and quick! She was always professional! She understood my daughters vision and it turned out beautifully! Thank you so much again.
-Noreen Chastain
I had a great experience at Love Birds Bridal Boutique! Cheryl was patient, not pushy, and accommodated to meet my price range. I would highly recommend dress shopping here ladies!
-Megan McCormack Simmons
I have really enjoyed working with Cheryl and her staff so far. They are always smiling, friendly and so easy to work with, just super helpful. Their store is also pretty impressive. I highly recommend paying her a visit for anything wedding or even stationery related!!
-Apryl H. | Perkinston,MS
Cheryl has a fabulous selection of wedding gowns, stationary, and all things wedding. My friends sister found a dress she loved and was from a top designer. I highly recommend Cheryl and Love Birds Bridal Boutique in Hattiesburg, MS.
-Bobby M. | Poplarville, MS
Because of the awesome service we received. My daughter had specific desires for her special dress. Cheryl sold us on finding dresses that fit her request, not trying to sell us something she didn't want. With her kindness and patience, my daughter Madeline found her perfect dress and we could not be more appreciative. Thank you Cheryl for making a difficult process easy.
-Michelle Ory Jordan
Cheryl made our wedding dress shopping so much easier than I expected it ever could be! It was such a laid back environment, and I loved how she really listened and paid attention to what I wanted. I can't wait to wear my dress from here on my big day!!
-Madeline Ard
Amazing, friendly and creative staff, stunning gowns and accessories... Invitations, save the dates... tuxedo rentals... they have it all. One of my favorite things about Love Birds Bridal Boutique is their shop and the environment. You know immediately when you walk through the door that you are going to be in great hands! I always enjoy getting their expert advice/opinions whether I'm there to just browse or make a purchase
:)
-Cathy Giron Tullier
I ordered Thank You cards from here; they turned out wonderfully, and the staff was friendly.
-Megan Elizabeth